TABLE OF CONTENTS
GENERAL NETWORKING GROUPS AND RESOURCES

INTERNET MARKETING RESOURCES
PROFESSIONAL ASSOCIATIONS & ORGANIZATIONS

E-GROUPS
CONSULTING & FREELANCE RESOURCES

How to.. for Career & Job Search

Identify Prospective Employers / Leads

Other Resources
RECRUITERS AND ON-LINE LISTS

INTERNATIONAL CAREERS & JOB SEARCH

INNOVATION COMMUNITIES & MARKETPLACES
---


Making Your Dreams Come True - by Marcia Wieder

Loving What Is - by Byron Katie

Guerilla Marketing for Job Hunters - by Jay Conrad Levinson & David E. Perry

InfoGuru Marketing - Leveraging what you know to attract all the clients you can handle by Robert Middleton

Nonstop Networking - How to Improve Your Life, Luck, and Career - by Andrea Nierenberg

The 5 Patterns of Extraordinary Careers - The Guide for Achieving Success and Satisfaction, by James M. Citrin & Richard A. Smith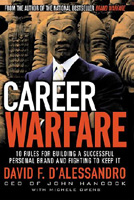 Career Warfare - 10 Rules for Building a Successful Brand and Fighting to Keep It - by David F. D'allesandro with Michele Owens

Difficult Conversations - How To Discuss What Matters Most - by Douglas Stone, Bruce Patton, and Sheile Heen of the Harvard Negotiation Project

Crucial Conversations - Tools for talking when the stakes are high - by Kerry Patterson, Joseph Grenny, Ron McMillan, Al Switzler

Getting to Yes - Negotiating Agreement Without Giving In - by Roger Fischer, William Ury, and Bruce Patton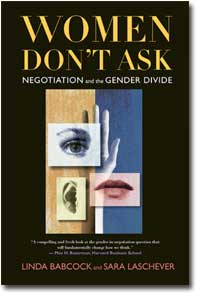 Women Don't Ask: Negotiation and the Gender Divide - by Linda Babcock and Sara Laschaver

What Got You Here Won't Get You There - by Marshall Goldsmith

The First 90 Days - Critical Success Strategies for New Leaders at All Levels - by Michael Watkins
---
GENERAL NETWORKING GROUPS AND RESOURCES

LSV - Link Silicon Valley - web site where you can connect to the people who build and fund the technology companies of Silicon Valley. Includes a directory with over 6,000 technology firms, of which approximately 2,000 are active, VC-backed and other emerging companies. Database includes companies involved in Biotechnology, Communications, Computers, Internet, Medical, Peripherals, Semiconductors, Semiconductor Equipment and Software sectors. The core information includes contact information of key management, outside board members, VC's, customers, strategic partners, and other information typically found in corporate press releases.
ExecuNet - fee-based career services group that targets executives earning at least $100,000 annually. It runs 70 meetings a month across the U.S. Allows allows members access to its online member directory.

CEO Connection - an organization that promotes ongoing peer-to-peer interaction for leaders in mid-size and large companies. Membership includes seasoned executives, as well as rising and newly minted leaders. Resources offered include: CEO Boot Camps, Dinners & Forums; Online Membership Directory; Private Briefings; Interest Groups; Member Library; Webinars; Complete Confidentiality; and exclusive privileges, such as Penn Club Associate Membership, acceptance to the Wharton Fellows Program; and access to Knowledge@Wharton. Membership requirements include: Serve as either a CEO or rising CEO; Receive nomination from a strategic partner or member; Show leadership in his or her respective field; Demonstrate personal and professional integrity.
FENG - The Financial Executives Networking Group - The Financial Executive Networking Group - a very senior level "circle of friends." Members have typically been Chief Financial Officers, Controllers, and Vice Presidents of Finance, Treasury, Tax or Mergers & Acquisition, as well as other financial disciplines. Featured in the January 21, 2003 edition of The Wall Street Journal, The FENG is a nationally recognized organization for senior financial professionals and is also the largest networking group of its type in the entire world. The basic purpose of the organization is to create an opportunity for you as a senior financial professional to network, share job leads and friendship with your peers in the financial community.
MENG -The Marketing Executives Networking Group - a national network of top-level marketing executives devoted to enhancing its members' professional skills, relationships, and knowledge. MENG's mission is to be the " indispensable community of executive-level marketers who share their passion and expertise to ensure each member's success."

Technology Executives Networking Group – the TENG is an on-going business resource, where selected senior-level Information Technology executives share business contacts, technology resources, job opportunities and career information. Membership is free of charge.

The Funded - an online community of entrepreneurs to research, rate, and review funding sources worldwide. In addition, TheFunded.com allows entrepreneurs to view and share term sheets, to assist one other finding good investors, and to discuss the many facets of operating a business.
Forty Plus - 40 Plus is the nation's oldest non-profit organization dedicated to helping currently available managers, executives and other professionals over 40 years of age find jobs. Both 40 Plus of Northern California and 40 Plus of Philadelphia maintain links to other North American chapters. Depending on the chapter, there may be a low membership fee and monthly dues. Membership obligations in Forty Plus of Northern California, for example, consist of participating in and supporting Forty Plus activities by attending support group meetings and giving four hours of service each week, as assigned, in one of the operations departments

Professional Area Network for Women in Technology - a Silicon Valley-based non-profit organization devoted to creating programs and educating professional women in technology and related industries.

BNI - a fee-based business and professional networking organization that allows only one person per professional classification or specialty to join a chapter.

For details on other national and regional resources, visit The Riley Guide at http://www.rileyguide.com/support.html

---
LinkedIn - an online network of more than 20 million experienced professionals from around the world, representing 150 industries through which users can find potential clients, service providers, subject experts, and partners who come recommended; be found for business opportunities; search for great jobs; discover inside connections that can help land jobs and close deals; post and distribute job listings; find high-quality passive candidates; and get introduced to other professionals through the people you know. www.linkedin.com
Emails4corporations.com - "the best free resource to help you get in touch directly with company contacts - shares email address conventions used by various companies to help you "guess" business email addresses of people you want to contact - www.emails4corporations.com
Wilson Internet Services - offers the Web's largest source of key information about doing business on the Net -- hundreds of articles, thousands of links to resources on e-commerce and Web marketing - www.wilsonweb.com
Templatemonster - creates and sells high quality web site templates; their library is currently the largest on the Internet, with over 5,000 web site template designs. They add, on average, 150-200 new designs monthly. Useful if you are planning to create your own professional/resume web page or site. www.templatemonster.com

Efuse.com - offers information, inspiration, and assistance written in plain English by professional writers and designers so it's easy to understand and use. eFuse.com is for everyone who wants to build a more attractive and effective web site. - htttp://www.e-fuse.com
Web sites for easy creation of blogs: https://www.blogger.com/start; http://ebloggy.com; www.blogdrive.com
Web sites for easy creation of email newsletters: www.constantcontact.com, www.benchmarkemail.com
Podcast tools & tips:
http://www.podcastalley.com/, http://www.podcastbunker.com/Podcast/Podcast_Picks/Tips_%26_Tools/
The vision for EmailUniverse.com is to deliver the largest collection of resources, directories, community, tools, tips, tricks, suggestions, ideas, and strategies to help email list owners succeed - http://emailuniverse.com/
Tips on blogging, writing, advertising, marketing: http://www.bly.com/newsite/Pages/articles.php
---
PROFESSIONAL ASSOCIATIONS & ORGANIZATIONS

asae & the Center for Association Leadership - variety of resources concerning associations, including a directory of over 45,000 organizations in the United States - http://www.asaecenter.org/
Directory: Associations Unlimited - On-line database of thousands of U.S. and International Associations, Trade Organizations, Chambers of Commerce, etc. The San Francisco Public Library has on-line access to this directory for library card holders. Check your local public library for the on-line or print version.

Weddle's Association Directory - free on-line listing of associations - http://www.weddles.com/associations/index.cfm
Extensive List of Professional Associations in Silicon Valley: http://www.andreas.com/faq-networks.html
Local Chambers of Commerce
(ex: http://www.sfchamber.com/, www.sjchamber.com, http://www.oaklandchamber.com/, etc.)

Toastmasters – to polish public speaking or networking skills – www.toastmasters.org
---


http://www.groups.yahoo.com/group/softwareproductmarketing - Software Product Marketing Group - This e-group is for distribution of job opportunities in software and networking marketing and business development.

http://www.groups.yahoo.com/group/KITlist - The purpose of the KIT List is for members to help each other find great work by sharing job and consulting leads


---
CONSULTING & FREELANCING RESOURCES

http://www.freelancersunion.org - a nonprofit organization that represents the needs of America's independent workforce though advocacy, information, and service. By representing independent workers as a group, Freelancers Union can negotiate favorable insurance rates and provide a social safety net. They currently offer health insurance to freelancers in 31 states, and provide dental, life, and disability insurance nationwide. They're currently working on retirement plans and unemployment insurance.
www.msquared.com – M2 - Broker of independent consultants - assists companies in reaching their business objectives through the use of an exclusive network of top independent consultants, each with the expertise to address specific business problems and opportunities. Consultants are proven, seasoned professionals with an average of fifteen years experience in fields ranging from marketing, operations, and human resources to finance, IT, and top management, across virtually all industry segments.

www.guru.com - online marketplace for freelance talent. Through their free service, employers find top freelance and contract talent locally, nationally, or globally. Created in August of 2000, Guru.com's web-based marketplace directly connects businesses with more than 100,000 active freelance profiles specializing in over 160 professional categories including: web site design, programming, graphic design, business consulting, and administrative support.

www.elance.com - Businesses use Elance to achieve more by finding great people and getting work done in a new way, and talented professionals find meaningful work that fits their lifestyle.
www.oDesk.com - marketplace for online workteams that connects companies with talent; main categories are web development, software development, networking & information systems, writing and translation, administrative support, design & multimedia, customer service, sales & marketing, and business services.
www.sologig.com - a niche website specializing in connecting contract-to-hire, contractors, freelancers, and consultants with companies looking for independent professionals. Registration is free, no project fees. There's also no bidding on Sologig - you choose which projects you are interested in and negotiate pricing directly with the employer.
http://www.gofreelance.com/ - Since 1998, GoFreelance has been connecting freelance professionals with companies that need jobs done. From graphic design and web development, to programming, copywriting, article writing and much more, thousands of projects have been completed through our system. Jobs covered include writing and editing jobs, web design and development projects, medical and legal transcription jobs, Internet research and email support work, data entry and administration jobs, programming and technical projects, graphic design and illustration jobs, wide range of telecommuting jobs.
www.net-temps.com - Job board for temporary, temp-to-perm and full time employment through the staffing industry. Membership to Net-Temps is exclusive to staffing companies. Net-Temps assists staffing companies in sourcing and hiring the most qualified candidates.
www.virtualassistants.com - Virtual Assistant jobs or other work at home jobs including medical transcription, virtual assistant, transcription, administrative, data entry, customer service, writing, computer, programming, technical or other
2009 Federal Economic Stimulus Web Site
2009 California Economic Stimulus Web Site
2009 San Francisco Economic Stimulus Web Site
Key Career Networking Resources for Job Seekers
Tools for Career Networking on the Internet
BrainTrack - http://www.braintrack.com - higher education and career resource with worldwide reach
Techcrunch - www.techcrunch.com - a weblog dedicated to obsessively profiling and reviewing new Internet products and companies.
Glassdoor.com - http://www.glassdoor.com - User information-driven web site with company reviews, ratings, and salaries from "real employees."
Occupational Outlook Handbook - http://www.bls.gov/oco/ - Info. on a variety of occupations for the exploring and curious.
U.S. Department of Labor - Bureau of Labor Statistics - Career Guide to Industries (CGI), 2008-09 Edition - http://www.bls.gov/oco/cg/home.htm
America's Career InfoNet - General information on industries and professions - www.acinet.org

Vault - www.vault.com – presents itself as "the Internet's ultimate destination for insider company information, advice, and career management services." Offers message boards, job boards, occupational and industry profiles, company profiles, sample resumes, sample cover letters, etc. Much of this is free-of-charge. There is a $42 charge for a 6-month subscription (and digressive per-month fees with orders of greater numbers of months) that access to more in-depth company and salary information. Focus is on finance, consulting, and law.
Wetfeet - www.wetfeet.com – Vault's competition – offers similar resources
Career Profiles - www.careerprofiles.info - wide variety of career information and job search resources
Top News Search Engines (with possibility, in most cases, to set up e-mail news alerts on topics, industries, and companies of interest):
Regional Business Journals - http://www.bizjournals.com - the nation's largest publisher of metropolitan business newspapers. It operates the Web sites for each of the company's 41 print business journals and operates a web-only site with local business news and information for Los Angeles.
The national bizjournals site features local business news from around the nation, updated throughout the day, top business stories from American City's print editions, industry-specific news from more than 40 industries, advice columns, and a full menu of tools to help business owners and operators manage their businesses more successfully. There's also easy navigation to each of the 42 local business sites.
San Francisco Public Library - On-line Press Article Indexes & Business Data Bases - free to library card holders.
Findarticles - Index plus articles from thousands of resources, with archives dating back to 1984.
Special Issues List of Lists - http://www.specialissues.com/lol/ - Index of various lists of industry data divided by topic area (for example: 2007 List of Most Power Real Estate Brokerage Firms
ThomasNet Industrial Newsroom - http://news.thomasnet.com/index.html -Industrial NewsRoom is a retail site with the mission of delivering timely, new industrial product information covering the whole range of products from adhesives through waste handling equipment.
With free services such as RSS feeds, Industrial News Room makes this valuable information available to all who are interested in the latest industrial products. Possible to sign up for e-mail updates on particular industries and to read articles and BLOGS covering industries of interest.
Indeed.com - http://www.indeed.com - Indeed is a search engine for jobs - with a radically different approach to job search. In one simple search, Indeed gives job seekers free access to millions of employment opportunities from thousands of web sites. Indeed.com includes all the job listings from major job boards, newspapers, associations and company career pages - and we continue to add new sites every day. Includes resources for salary research and discussion forums.

Careerjet.com - http://www.careerjet.com/ - job search engine that maps the huge selection of job offerings available on the internet in one extensive database by referencing job listings originating from company web sites, recruitment agency web sites and large specialist recruitment sites. Using a fast and straightforward interface, users can query this database and save themselves the trouble of visiting each site individually. Careerjet's job search engine network encompasses over 50 countries, featuring separate interfaces that are translated into 20 languages.
USAJOBS - www.usajobs.com - the official job site of the United States Federal Government - one-stop source for Federal job and employment information
Guide to Informational Interviewing - includes 20 sample questions
UC Berkeley Career Center - Career Field Overviews - resources to investigate career paths, industries, and opportunities for gaining experience in a variety of areas, including Architecture & Planning, Arts & Entertainment, Business, Communications, Education, Engineering & Physical Sciences, Environment, Government, Healthcare, International Careers, Law & Public Policy, Life Sciences, and Nonprofit & Public Service.
Investment Management Industry Related Links - Columbia Investment Management Association - Includes excellent snapshot of the investment management industry from a career perspective, along with resources about the hedge fund industry, sample interview questions, reading lists, etc.
Careers in International Development
HR Professional Resources & Careers
Resources for Therapists Looking to Build a Private Practice
Resources - Employment with the US Federal Government
Career Guide - Decoding the Information Security Profession
www.workit.com - WorkIt offers Resources and Event Listings for people working in high-tech and high-growth startups

www.efinancialcareers.com - eFinancialCareers serves the global financial community as a network for career management and jobs in the securities, investment banking and asset management industries. Their aim is to provide users with jobs, job market analysis, advice and a series of tools to help the financial professional maximize career opportunities. eFinancialCareers is part of the Financial News group of companies.
www.venturewire.com – Venturewire - family of publications and products - source of news, networking, and information about private technology companies, VC firms, and the people that manage and finance them.

http://www.careers-in-marketing.com/ - Careers in Marketing – part of Careers in Business web site series, offers general career and specific job-search related information, with numerous links to other relevant sites.
http://www.marketingsherpa.com - Marketing Sherpa is a media company providing Case Studies, results, data, and best practices for marketing, advertising, and public relations professionals. Free subscription available to "Career Climber" newsletter, which includes employer job ads.
http://www.careercornerstone.org - Sloane Career Cornerstone Center - a resource center for those pursuing careers in engineering, mathematics, information technology, and the physical sciences.
http://mnc.nonprofitoffice.com - The MBA-Nonprofit Connection (MNC) provides a variety of services that help to bring MBA skills and energy to the nonprofit sector while bringing exciting new job opportunities to the business school community. The MNC serves as an extension to the career services programs of its partner business schools and, depending on the school, may provide services to both current students and alumni.
http://www.developmentgateway.org - The Development Gateway Foundation is an enabler of development whose mission is to improve people's lives in developing countries by building partnerships and information systems that provide access to knowledge for development. Users can find content resources by topic, as well as business opportunities, information on development projects, publications, and statistics -- organized by countr
http://www.jobs4development.com - resource for locating international development jobs and consulting opportunities

Identifying Prospective Employers
On-Line Company Directories & Information
Fortune 100 Best Companies to Work For
http://www.prospectsdaily.com/howtouse_pg2.aspx - ProspectsDaily.com - profiles companies and growth events, including:
Funding news (new funding or secured financing)

Announcements (new executives or plans to relocate and/or expand)

Going public (recently filed for their initial public offering)

Newly public (recently completed their IPO)
Company profiles include:
Company name and exchange/ticker symbol (public
companies only)

Number of employees*

Description of what the company does

Industry classification

Explanation of recent newsworthy event

Links to past events*

Corporate contact information (office locations, phone
and fax numbers, link to company

web site

)

List of decision-makers within the company and direct
contact information*
*when available
PWC Money Tree Report - www.pwcmoneytree.com - Quarterly study of venture capital investment activity, including list of companies funded, amount of funding, by whom, stage of company, etc.
Venture Wire Alert - http://www.fis.dowjones.com/products/vwirealert.html - free daily summary of top headlines, deal highlights and generic trends in the industry.
VentureBeat - http://venturebeat.com/ - Article and information about emerging ventures in teh Mobile, Green, Social Media, Electronic Gaming, Cloud Computing, and Media spaces. Includes information and links to information about VC funding rounds and M&A in these spaces.
http://gigaom.com - The GigaOM Network of sites provide one of the leading daily online news reads for the key influencers in the emerging technology market place. They deliver technology news, analysis and opinions on topics ranging from broadband and online games to Web 2.0.
PE Wire Week - http://hosting.mansellgroup.net/enablemail/ThomsonNewLetter/HostedWires/joinform.htm - daily dose of private equity news and views from Dan Primack
TechCrunch - http://www.techcrunch.com/ - web log dedicated to obsessively profiling and reviewing new Internet products and companies. In addition to covering new companies, it profiles existing companies that are making an impact (commercial and/or cultural) on the new web space.
www.eetimes.com - news for the electronics industry - includes articles, relevant BLOGS and job board with heavy majority of technical (but also some business function) positions
Glassdoor.com - http://www.glassdoor.com - a career and workplace community where anyone can find and anonymously share real-time reviews, ratings and salary details about specific jobs for specific employers — all for free.
local.google.com - Search by key word and location for all businesses of a certain type in a certain location - be sure to click on the "find businesses" tab
Jobs for PhD's - Chronicle of Higher Education Careers Page - http://chronicle.com/jobs/
Partner Job.com - http://www.partnerjob.com/index.php - Backed by major corporations and organizations, and entirely non-profit making, it helps create career opportunities for dual career partners on the move. Partnerjob.com offers a world-wide database where members can post their job openings. Partner's employer must be a member.
Women Work! - The National Network for Women's Employment - http://www.womenwork.org - resources for individuals and women in transition
9 to 5 - National Association of Working Women - http://www.9to5.org/ - a national, grassroots membership organization that strengthens women's ability to work for economic justice.
The All Coaching Resource Center - An excellent information resource for business coaches and life coaches.
Green Leaf Book Group LLC - a publisher and distributor that specializes in the development of independent authors and the growth of small presses.
Susan Ireland Resume & Cover Letter Videos - Series of videos on a number of topics related to resumes, cover letters, and interviews created by the author of "The Complete Idiot's Guide to the Perfect Resume" and "The Complete Idiot's Guide to the Perfect Cover Letter.
Quintessential Careers: --
a comprehensive career development site that offers all job-seekers valuable career information and links to all the best jobs sites on the Web.
---


http://www.theladders.com/ – The Ladders – Job site dedicated to candidates and companies looking to fill $100K+ jobs in a variety of sectors.
http://www.directemployers.com – Direct Employers – Internet's only search engine dedicated exclusively to employment. It provides access to all types of employment opportunities including full-time, part-time, co-op, internships, work-study, temporary, and seasonal employment for non-skilled, skilled, administrative, technical, professional, and executive-level job seekers.

The search engine allows you to search jobs on corporate web sites across the Internet and begin the application process with the company to which you want to apply.
http://www.ventureloop.com/ventureloop/job_search.php - VentureLoop.com - job board for venture-backed companies
http://startupers.com/jobs/ - Startupers! - "the original job board for innovative startups"
http://www.marketingjobs.com – MarketingJobs.com – marketing job board

www.start-inc.com – Start, Inc. – High-tech recruiter with team comprised of entrepreneurs.
www.dice.com - Dice - provider of online recruiting services for technology professionals, including extensive salary database for full-time employees and contractors.

www.glocap.com – Glocap.com – Recruiter serving the private equity, venture capital and hedge fund marketplaces.

http://www.jobsinthemoney.com - Jobs in the Money - The market maker in professional finance positions

www.chiefmonster.com – Monster.com's web site for senior executives
http://www.startuply.com/ - Startupuly.com - job board for startups - includes a list of startups with bare-bones profiles on each

www.craigslist.com – Craig's List – Web Site with sections advertising jobs in Bay Area companies.

Indeed.com - http://www.indeed.com - Indeed is a search engine for jobs - with a radically different approach to job search. In one simple search, Indeed gives job seekers free access to millions of employment opportunities from thousands of web sites. Indeed.com includes all the job listings from major job boards, newspapers, associations and company career pages - and we continue to add new sites every day. Includes resources for salary research and discussion forums.
SimplyHired.com - http://www.simplyhired.com/ - vertical search engine aggregating jobs from a variety of job boards.

Beaucoup! - Web site listing a variety of search engines and resource web sites. Listing of job-search related sites at http://www.beaucoup.com/1empeng.html
http://www.jobsafari.co.uk/ - Job Safari - Job Boards and Related Resources for a number of European countries.
Practicematch.com - http://www.practicematch.com - job board for physicians
Journalismjobs.com - http://www.journalismjobs.com - jobs in journalism
---
INTERNATIONAL CAREERS AND JOB SEARCH
Expat Focus - international living advice, employment overseas, buying property abroad, international insurance and expatriate mortgages
Join our lively expat community today! Get help finding international insurance cover, overseas property, job opportunities abroad and investment advice, including pensions and retirement planning. Keep in touch with other expats through our forum, email discussion list and monthly newsletter.
The Israel Export and International Cooperation Institute
Your gateway to business and economy in Israel. Succeed in commercial ventures with Israeli companies and in the Israeli marketplace.
Wang & Li Asia Resources - Wang & Li Asia Resources is a human resources services company that specializes in the recruitment and development of high caliber, bilingual professional and management talent in China. Web site has job listings; a FAQ page; and job market reports for Taiwan, Beijing, Hong Kong, and Shanghai.

H1Base - Web site with a set of VISA guides for non-US nationals who wish to work in the United States. Also offers a variety of fee-based services to individuals, universities, and international career centers in connection with search by non-U.S. nationals for U.S. employment.
Workpermit.com - Web site with detailed information on work permits and related process for U.S., UK, Canada, Australia, and a number of other countries.
---
INNOVATION COMMUNITIES & MARKETPLACES
Second Life - www.secondlife.com - a virtual universe created by the "residents" themselves where people can interact, and is specifically used for discussions, conferences, and recruiting. "Residents" can innovate and sell their creations (clothing, real estate, etc.) using "Linden dollars," a virtual currency that can be exchanged for real currency. Individual "residents" own the rights to the intellectual property they create in Second Life.
Ninesigma - www.ninesigma.com - web site that enables client organizations to source innovative ideas, technologies, products and services from outside their organizations quickly and inexpensively by connecting them to the best innovators and solution providers from around the world. Their unique "Discover-Connect-Solve" approach is based upon the principles of Open Innovation. Their clients access the largest and most comprehensive open network of scientific researchers in the world to solve their business needs.
Innocentive - www.innocentive.com - specializes in connecting organizations with individuals to solve product development and other business and science problems. Operates on a brokerage principle with solutions commanding from $5,000 upward to $1,000,000.
YourEncore - www.yourencore.com - a network of retired and veteran scientists and engineers providing clients with proven experience to help accelerate their pace of innovation. Participating scientists tend to have rare, extremely pointed expertise and work under short-term contract.
Yet2 - www.yet2.com - intellectual property marketplace focused on bringing buyers and sellers of technologies together, offering companies and individuals the tools and expertise to acquire, sell, license, and leverage intellectual assets.
---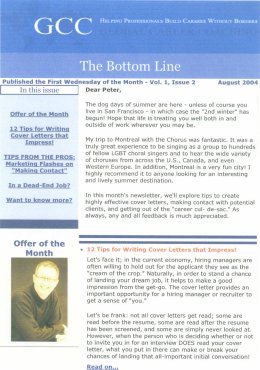 For FREE tips on how to have a great career, reap the rewards that really matter to you, and keep balance in your life, subscribe to "The Bottom Line," Global Career Coaching's monthly newsletter, by filling out the following form:
---
---
If you have a career or job-related web site, we would be happy to exchange links.
Simply add a link on your web site to www.gccoach.com (for example, Global Career Coaching: Peter Jacobs, Career Consultant & Coach).
Send us the URL to that page via e-mail at peter.jacobs@gccoach.com and we will add you link to our site.
Feel free to copy the graphic below for your link or to use the html text in the box below:

Global Career Coaching - Helping Professionals Build Careers Without Borders: Peter Jacobs, Career Consultant & Coach - www.gccoach.com
html:
<img src="images/gcc-small.jpg" name="GlobalCareerCoaching" width="123" height="49" hspace="0" vspace="0" border="0" align="left" id="GlobalCareerCoaching"><span class="bodytext"><font size="2" face="Verdana, Arial, Helvetica, sans-serif">Global Career Coaching - Helping Professionals Build Careers Without Borders: <strong>Peter Jacobs</strong>, <strong>Career Consultant &amp; Coach</strong> - <a href="http://www.gccoach.com">www.gccoach.com</a>