Peter Jacobs brings to his clients over 14 years cumulative business experience up to the manager and director level at Arthur Young, Price Waterhouse, Intel, and a high-tech start-up. Since 2001, he has helped hundreds of MBA's and professionals to successfully build fulfilling careers, succeed on-the-job, and market their services.
Having made several career changes himself, including starting his own coaching practice, Peter has experienced first-hand the kinds of challenges and opportunities you face in your own company or career.
Peter's 7 years of experience living and working outside of the U.S. particularly positions him to help professionals build international careers.
There are thousands of coaches. Some do personal and life coaching. Peter's focus is specifically on careers and their role in enabling you to meet your personal aspirations. His goal is to be of service to you in the development of your career as either an employee or "solopreneur."
Over the course of his corporate career, Peter hired and managed staff and worked on cross-functional teams in large and small organizations. He has worked as both an individual contributor and manager and has experienced various styles of management. He is intimately familiar with the opportunities and pitfalls that come with navigating organizational politics, dynamics, and culture. As a contract negotiator and business & financial analyst, he has saved millions of dollars in expenditures for prior employers.
Other highlights of Peter's background and training include:

MA in Career Development from JFK University
MBA in International Business from INSEAD
BSE cum laude from the Wharton School of the University of Pennsylvania
CPPM - Coaching for Personal and Professional Mastery by the Newfield Network
Registered Professional Career Counselor, California Registry of Professional Counselors and Paraprofessionals
National Certified Counselor (NCC) credential
Master Career Counselor (MCC) credential
Trained in CareerLeader assessment tool
CPA in the State of New York
Fluent French ; Conversational German ; Intermediate Spanish, Beginning Italian
For more information on the services Peter offers, please click here.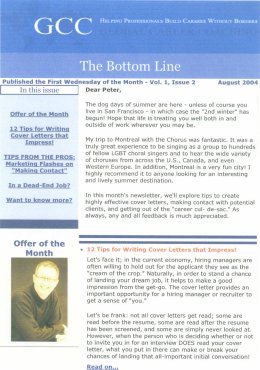 For FREE tips on how to have a great career, reap the rewards that really matter to you, and keep balance in your life, subscribe to "The Bottom Line," Global Career Coaching's monthly newsletter, by filling out the following form:
If you'd like to learn about how Peter can help you to increase your bottom line, have more time for activities outside of work, or find work in which you thrive, you may contact him for a free initial telephone consultation.

Call him at (415) 285-0826 or e-mail him at peter.jacobs@gccoach.com