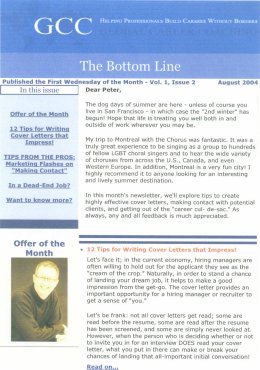 E-Zine - "The Bottom Line"
While you're here, be sure to sign up for our FREE e-zine featuring dozens of useful tips on how to build and nurture your career, market your services to employers and/or potential clients, and keep balance in your life.
Subcribe to The Bottom Line
Email:
The Bottom Line is a FREE monthly e-zine that will help you
choose the right career for you
attract great job offers, promotions, or clients
succeed during your first 90 days in a new job
be happy and successful on-the-job
This brief and informative e-zine is IDEAL for professionals who need to promote their services to others and to function at a high level in complex, dynamic organizations.
You'll learn how to:
Articulate your career goals
Write winning resumes and cover letters
Interview for success
Develop marketing collateral for your individual service business
Network effectively
Keep focused and in action as you search for work
... and much more!
Simply complete the form below to subscribe. You can cancel your subscription anytime. And, privacy is our policy. Your name and e-mail address will never be shared with or sold to anyone else.
So why not give us a try! Don't miss the next issue - subscribe now!

Visit my blog at: