What business professionals and managers are saying about Peter Jacobs:
I would like to thank you again for all your great support and coaching this year. It really made a huge difference to me, and allowed me to grow as an individual, see the world from another perspective, and become more aware on how I can continue to develop as a person and professional. I am enjoying my new job.
MBA Alum
Senior Product Manager
I realized a significant improvement in my position's level of responsibility and recognition. For the long term, my goals were accomplished.
I was looking for a smart, sophisticated coach to help me solve an immediate problem and to chart my longer term career strategy. Working with Peter exceeded all of my expectations. My investment in coaching with him has provided tremendous returns.
Stefan Peterson
Director of Operations
Peter helped me accelerate my job search process, and I now recommend him to anyone I know who's looking for a new position in the Bay Area. He helped me define a set of target opportunities, build a pipeline of new contacts, and prepare for important interviews. He also tailored his approach to what I needed in a given month; sometimes we met frequently and other times, a phone call or email exchange was sufficient to address an important question. Ultimately, I'm pleased with how quickly I found the right position (vs. just a job) while working with Peter.
Greg Keller
Managing Director, Consulting Services
From our first meeting, when Peter assisted me in identifying my career goals to the last when he helped me make a choice between attractive job offers, Peter provided terrific guidance during at an inflection point in my career. He was helpful in my decision-making process by listening carefully and asking thought-provoking questions. I felt more comfortable with my decision because I consulted with him.
Dan Newman
Vice-President
Peter was able to help me clarify both my feelings and my career direction. He did this by asking me pointed, thoughtful questions that made me think in a different way than I had been previously. After our first meeting, I found myself already evaluating my opportunities and priorities from a more enlightened perspective.
Alex Hochman
Career Counselor
Peter sticks with you to the end and is a source of building your self-confidence. He encourages you to know your worth and never give up on what you want to achieve. He provides you the frameworks to achieve your goals, but it's up to you to take the initiative and follow through. And he is there whenever you need him. I am very grateful to have had his help and support.
Nish Rajey
Consultant, Corporate Development
Peter provided key insights in building my resume with a structure that marketed my skills to future employees rather than simply being a list prior positions. He was diligent throughout and supported me with additional help on pursuing specific positions. Highly recommended.
Keith Rayner
Sr Director, Media and Technology Marketing
Peter helped me tremendously getting a strong start during my first 90 days in a senior marketing position at Wells Fargo. With his help, I was able to identify key issues and blind spots to address during this crucial time, and as a result was able to make a great impression on my new employer. I'd recommend Peter to anyone starting a new job and willing to make an investment in their career.
Lutz Braum
SVP Marketing - PCM business at Wells Fargo Bank
Working with Peter was key to evaluating several career opportunities and choosing one that best fit my goals and personal values. He took the time to understand what I was looking for and then asked tough questions to help me develop a solid plan.
Peter did a great job of listening and asking tough questions. I felt that he understood my situation and what I was looking for, and then he helped me fill in some of the blanks in my planning. The most valuable thing for me was to have a sounding board so that I could verbalize some of my thoughts and plans and get an objective, knowledgeable, 3rd party opinion from someone I trust. Sometimes I got validation that my approach was productive, other times I got input to clarify a thought or better round out an option I was exploring.
Jim Schnarr
SVP / Technology Manager Wells Fargo
I worked with Peter at the Haas School of Business during the fall
term of 2005. At the time I was looking to find a new career path and
to learn how to interview after having worked for my family business.
Now I have received job offers and have passed through many rounds of interviewing with very different companies. It took five meetings with Peter to learn all that was necessary.
Marcos Veremis
Berkeley-Columbia MBA 2006
I started working with Peter at a time when I was really ready to take my business to the next level. At the same time, I was somewhat terrified. He was more than supportive of my goals - in fact, he continually challenged me to take yet another step out of my comfort zone. Having the sessions weekly really forced me to focus and even though there were weeks when I thought 'I don't have the time to do this!' I am so glad now that I committed to the 12 sessions. It gave me time to really make headway; and if I hadn't made that commitment up front, I can imagine I would have walked away when the going got tough. The end result has been truly amazing...my bank balance has never looked healthier, I can barely keep up with the new business I'm generating and I feel happier than I have in years!
Kate James
Director, Total Balance Group Pty Ltd.
Clarity in my career goals going forward was the most significant benefit I received from our work together. Peter possesses a great skill set in listening and offering his guidance/recommendation when required. This helped us stay focused on the task - define what is good for me and how we build the plan to achieve the desired goal.
Sumit Gujrani
Director, Technical Sales
Peter's suggestions were incredibly helpful. He helped me to focus my efforts and get organized in developing my business. He was highly perceptive of barriers that were holding me back -- and ready with solutions that worked for me.
David Marks
Entrepreneur
I wanted to share a story with you about how your Branding Statement helped me secure an interview. I recently attended a job fair. I was interested in a particular position at [company] that I'd seen listed. I got lucky in that I happened to approach the hiring manager for that particular position. Because I'd put together the branding statement you gave us during the search group, I was really able to articulate how I could fulfill all of the requirements in the job description, while also setting myself apart from other candidates. Right there at the job fair, she offered me an interview for the next day. When I arrived she'd even scheduled time for me to meet with her boss and a fellow hiring manager of hers! In the end, I selected an offer at another company; but I'm glad I at least got the chance to interview at [company].
MBA Student
Participant in Networked Job Search Team
I just wanted to let you know that I'm happy and quite successful in my career as a Salesforce Analyst. I'm back to programming, and I also work in designing business processes with end users and analyzing and representing data. From memories of our sessions together, I remember that the my "ideal" job was very close to what I'm actually doing now. I think what I was missing, besides some luck, was to be closer to home and to go through some personal growth. It took some time, but it happened. Thank you. Excellent work as Career Coach.
Former Client
I am writing to thank you for your leading and mentoring the 6-week group that recently concluded. I found your communications, samples, and critiques to be important to me in preparing my materials and presenting myself in a more focused manner.
MBA Alum
Participant in Networked Job Search Team
Peter Jacobs was an excellent facilitator and coach and was extremely helpful assisting job search team members to hone their resume and collatoral materials and to adopt a more disciplined approach in their job search efforts.
MBA Student
Participant in Networked Job Search Team
More than just a third party listener or an objective point of view, Peter brings a huge listening, seriously smart advice, and real world business experience to the work that he does. Combine that with his own obvious joy for life, and it's about getting out of your own tired old story and stepping into a more valuable conversation.
Tracy Cohen
Web Services Consultant
I had been looking unsuccessfully for a new job for almost a year. After working together with Peter for 4 months, I found and started a new job in a new industry and with a new set of responsibilities. I will be earning a higher salary than in my previous job and will have opportunities to apply my newly developed MBA skill sets. I can say that working with Peter has had a major impact in my life.
Herve Bruckert
Recent MBA Grad

Great advice; I feel much better about the steps I need to take to move forward in a productive manner. It's as if both my keel and rudder have been adjusted so that I can fully unfurl the sails.
Michael R
MBA Student
With give and take conversation that flowed easily, Peter made self-assessment painless and deeply beneficial.
David Rogers
Management Generalist - Rainmaker
Working with Peter, I was able to become more objective about what I wanted to do, and to focus more particularly on what I needed to do to reach those objectives. It was helpful to have someone asking objective questions.
I found the discussions of specific opportunities and approaches to them most helpful. Peter is particularly good at formulating practical strategies for interviews and other interactions. At this point, I have 8-9 possible job leads I have managed to unearth.
Jack Wills
Investments
Peter helped me understand the obstacles blocking progress in my career search and then come up with the strategies and concrete actions that I used to get beyond them and move forward with my career change.
Mary Gwynn
former Senior Vice President of Investment Banking and Former VP of Marketing
Peter's advice is both practical and insightful. He helped me deal with the nitty gritty (technical difficulties), as well as the more esoteric (what am I doing with my life). In addition, I found that Peter helped create positive vibes to help me move forward, seeing possibilities and options in my situation rather than obstacles and problems. I found my sessions with Peter very useful and would highly recommend using his coaching services.

Pamela Hochman
Marketing Manager
I credit Peter for helping me prepare, negotiate, and achieve my desired salary. He helped me gather the right questions to ask and create an approach based on the value I bring to the company. Peter guided me through a typical negotiation process and provided examples from his personal and professional experiences. I would highly recommend Peter to any business professional that's looking for career guidance, whether you're negotiating your salary, focusing on career goals or moving forward within your existing career. Peter is one of the best at what he does!"

Garry Young
Sales Analyst
I think the best thing I got from working with Peter was an objective view and logical advice on my situation. It was time and money well spent. Peter provided a good sounding board about office politics, setting realistic goals, and plans for achieving those goals. It was very much a refresher on what they teach you at business school (and some things they don't), but in a very practical and real context.
Karen Chu
Banking Associate
It wasn't just the "Get Clients Now" program that worked out for me. It was also imitating Peter's approach of mining the solutions from clients instead of providing the answers. I was impressed that he never told me what I should do; he always asked the right questions and made great suggestions. Out of the 2 clients I worked with directly over the weekend, one wrote an offer and the other is preparing to do so. Thanks again!
Bill Williams
Realtor, Prudential California Realty
Peter opens doors for you to improve your effectiveness in communicating with others. I attribute my last career transition in good part to his coaching.
Conrad Asper
Non-Profit Marketing & Development Manager
I first met Peter during my MBA Program at UC Berkeley. I was mulling a mid-career promotion/transition at the time. I found his career guidance candid, creative and very focused towards my needs. I would unhesitatingly engage him again.
Venkatesh Iyer
Product Manager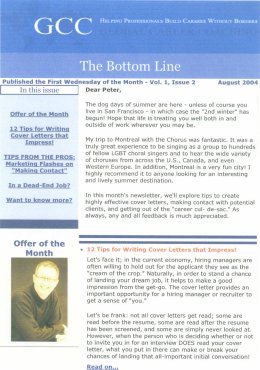 For FREE tips on how to have a great career, reap the rewards that really matter to you, and keep balance in your life, subscribe to "The Bottom Line," Global Career Coaching's monthly newsletter, by filling out the following form: